When your vehicle is in a minor fender bender or a major accident, you want professionals that have the right parts, tools, and expertise to repair your vehicle's damage. When that happens, turn to the Hondru Auto Collision Center for your vehicle's body work. We have over 50 years' experience in repairing damage to cars, vans, and trucks of all makes and manufacturers.
Our Body Shop Capabilities
Our fully-equipped collision center, located at our Hondru Ford of Manheim location, is staffed by highly-trained, experienced service technicians. Our body shop includes a frame machine and a downdraft spray booth, which means we can handle even the toughest recondition and painting jobs. And we offer a lifetime warranty on workmanship and paint repair on the collision work.

We also repair dings, scratches, broken windshields, and other damage caused by hail, tree limbs, or vandalism. This includes glass replacement, body work, paint-less dent repair, paint touch up, and a complete repaint job.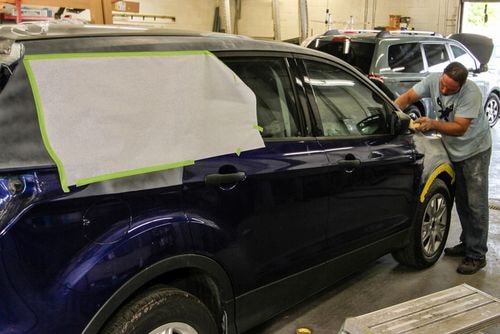 Dealing with Insurance Claims
After an accident, it can be frustrating in dealing with insurance companies. At Hondru Auto, we work with any and all insurance companies, in hopes of making the process as painless as possible. When your vehicle arrives in our shop, we will do a complete evaluation of the condition - including mechanical and body damage. Once repairs are approved, we will make them promptly to get you back behind the wheel of your car. And once we are finished, we will negotiate for you with the insurance company.
Four Steps You Should Take If You Are in an Accident
Stay calm- don't admit fault or discuss what caused the accident. Do not give the other party the amount of your insurance coverage.
Exchange the following information with the other party:

Insurance company
Insurance policy number
Driver's license number
Vehicle registration number
Phone number

Get your vehicle to Hondru Auto Body Shop. If your vehicle cannot be driven, call for a towing service. During regular business hours, you can call Hondru Auto at 717-665-3551.
Notify your insurance company of the accident and tell them your vehicle can be seen at Hondru Ford Body Shop.
Use our online form to schedule an appointment or contact our body shop if you have any additional questions.